10 Ideas That Will Instantly Grow Your Audience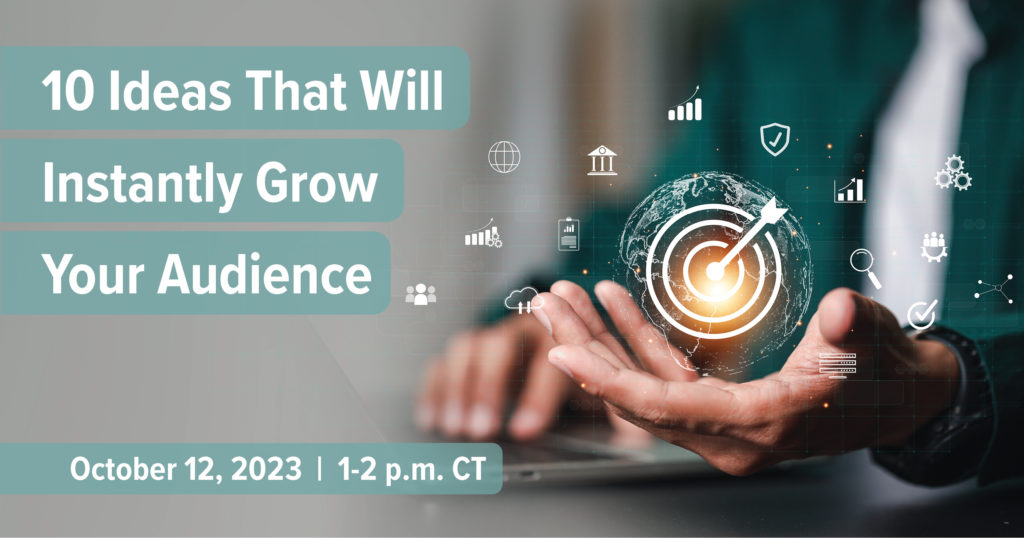 LIVE WEBINAR
THURSDAY, OCTOBER 12, 2023
1PM(CENTRAL); 2PM(EASTERN)
About the webinar:
As algorithms change and media organizations look for new ways to grow their audience, it's critical you know the levers to pull to attract more eyeballs and dollars.
David Arkin, a well-known digital consultant with more than 20 years of experience helping media companies grow their audience and revenue, will offer 10 ideas that you can easily implement that will immediately have an impact. David will co-lead this session with Tara Jones, who works for his consulting firm as a digital content strategist and has a wrath of experience working with small to media sized publishers.
This session will focus on:
Implementing a simple, but effective SEO strategy that will immediately get you results
Social media tactics that uses Meta's tools to quickly grow your audience
How to take traditional topics like education and sports and build fast digital-only features that are useful, searchable and shareable
AI approaches that will help you create content efficiently but ethically.
This promises to be a session with lots of practical ideas and takeaways that any size media company will benefit from.
About the presenters
David Arkin is the owner of David Arkin Consulting, which provides fractional digital audience and revenue leadership, branded and organic content strategies and creation and tech stack guidance for media companies.
In his 20-year career, David has built a wealth of experience serving as a reporter, editor, director, consultant and executive for newspapers, magazines, television stations, media associations and news start-ups.
He has developed high-quality content and built transformative digital strategies that led to significant audience growth, new revenue streams, and improved processes and technology for family-owned companies, brands and large media organizations. He has worked for GateHouse Media (now Gannet), Graham Media Group, the Local Media Association and CNHA nationally recognized audience leader, David has led content for some of the country's largest news organizations and even built his own media business from scratch. He has been named the Digital News Innovator of the Year by the Local Media Association, led numerous newsrooms to national journalism awards and has served on national industry boards like the Associated Press Media Editors and the Local Media Association Foundation Board.
Tara Jones, a nationally award-winning digital journalist, works for David Arkin Consulting as a digital content strategist. Throughout her career, Tara has helped launch a digital news website from scratch and has led several newsrooms in various capacities. In 2020, Tara helped launch a new digital news website and reached an average of 200,000 monthly pageviews in just one year. The site's hyper-local content plan with a digital-forward focus earned the site second place in Best Digital Audience Growth Strategy and third place in Best Social Media and Engagement Strategy in Local Media Association's 2020 awards.
Not only does Tara bring market-leading digital media experience as a journalist and editor, but she also has experience working with teams on both print and digital revenue growth and strategy across other departments outside of the newsroom. She also has experience working directly with brands on sponsored content and helped one of the newsroom's she led, launch a partnership with a regional television station.
Having worked in every facet of a media company from obits clerk to managing editor, Tara is able to understand and pitch in with almost any aspect of David Arkin Consulting.