Negotiation Skills of Media Sales Superstars (ARCHIVE)
Jul 13, 2023 1:00PM—Jul 13, 2026 2:00PM
Location
Webinar
Cost $35.00
Categories Advertising, Archived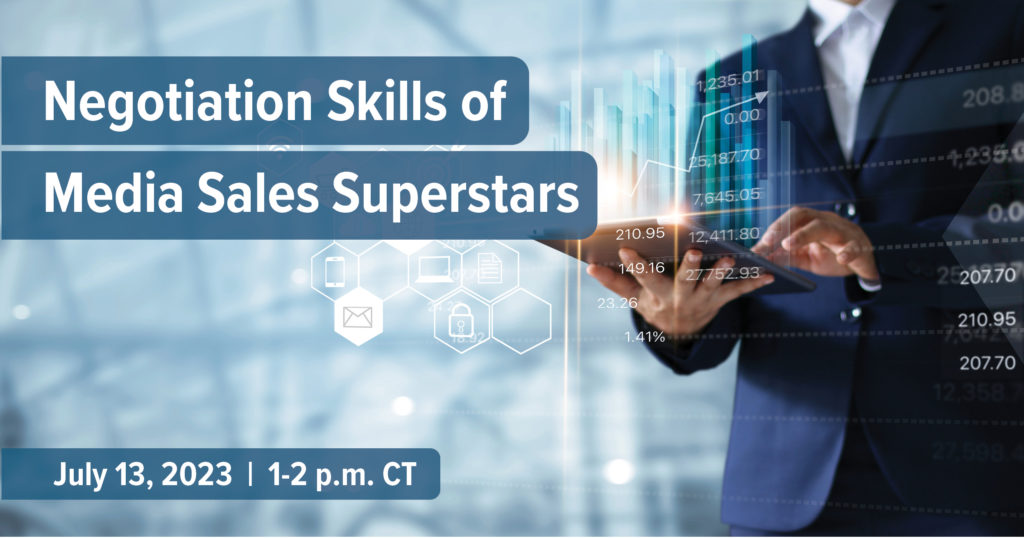 Originally recorded on July 13, 2023
About the webinar:
So, you get to the conversation on price and the client wants a discount? What do you do to keep them happy yet not kill the deal? Savvy ad sales reps know the 10 steps to negotiate a deal! Even if your boss wants you to stay on rate card, learn to negotiate on the spot and get a signature. Learn skills like "getting something when you give something" and "Expanding the conversation beyond money" and tactics like "letting the prospect speak first." Ad sales expert Ryan Dohrn has impacted over $350 million in ad sales and he will teach you to negotiate a deal like a true media sales superstar!
About the presenter: 
Ryan Dohrn is a top motivational speaker that won an Emmy for marketing excellence while working for ABC TV/Walt Disney Co. and was recognized by Forbes.com with the "Best of the Web" award for his business strategies. Dohrn's focus is leadership training and team performance development.  His passion for sales and marketing has given him the unique opportunity to touch half a billion dollars in revenue for companies in seven countries. Dohrn was one of the youngest managers in Walt Disney history. His management insights have been featured in USA Today and on CNN.  Ryan is an internationally certified business coach, has trained over 30,000 professionals, and works monthly with companies in 15 business sectors.